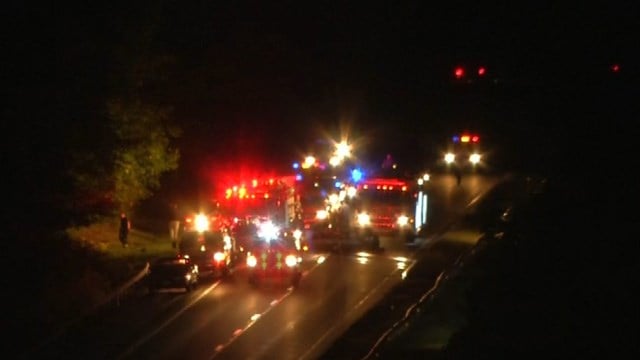 Police have identified driver killed in Route 15 crash.
HAMDEN, CT (WFSB) -
A 36-year-old Branford man was identified by state police as the driver who died after his vehicle crashed, went off the Wilbur Cross Parkway in Hamden and caught on fire on Tuesday night.
The two-car crash was on the northbound side of Route 15, is also known as the Wilbur Cross Parkway, between exits 59 and 60 just after 7 p.m.

Police said the car left the roadway, went into the woods and landed about 50 feet from the highway. The vehicle rolled upside down and then was fully engulfed in flames.

Hamden firefighters arrived on the scene and extinguished the vehicle fire around 7:30 p.m.

The driver, who was identified as Richard Kaczynski, was found inside the car and pronounced dead on the scene, police said.

During their investigation, police determined that Kaczynski was traveling of the left lane of the highway when his vehicle crossed into the right lane, side-swiping another vehicle.

The driver of the second vehicle told police that he was not seriously injured in the crash.

The fatal crash remains under investigation by the state police Accident Reconstruction Squad.

The portion of Route 15 near the crash fully reopened around 11 p.m.

Copyright 2014 WFSB (Meredith Corporation). All rights reserved.