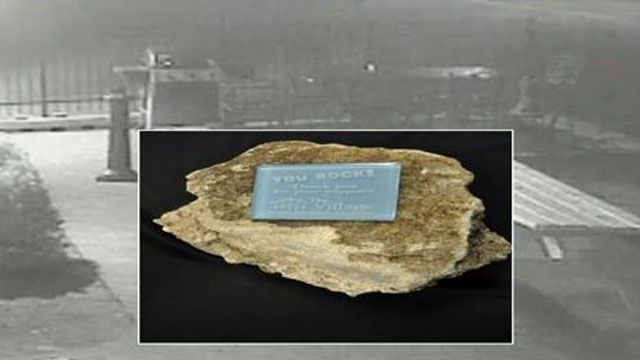 Rock used in Thomas Hooker Brewery break-in to be auctioned off tonight.
BLOOMFIELD, CT (WFSB) -
The Thomas Hooker Brewery lost hundreds of dollars in donations for a charity after a thief broke in and took it, but the employees have a plan to help get that money back.
On Friday night, they will raffle off the rock that the thief used to smash the window to get inside the brewery.
Then, the
unidentified man grabs the donation jar
inside with between $800 and $1,000 and runs out the door. The whole incident took about 10 seconds and was caught on four of the brewery's 16 cameras.
The money was all set to be donated to the Village for Families and Children.
The open house will be from 5 to 9 p.m. at the brewery at 16 Tobey Rd. in Bloomfield
"Our open house tomorrow will be a little more open than usual thanks to a special rock," brewery officials posted on its Facebook page.
Besides the raffle of the rock, there's also a charity buffet planned.
The brewery has even put out this advertisement for the raffle- that says quote "come steal some special moments at this Friday's open house."
No arrests have been made in the theft. If you recognize the man seen in this video, you're asked to call Bloomfield Police Department at 860-242-5501.
Copyright 2014 WFSB (Meredith Corporation). All rights reserved.