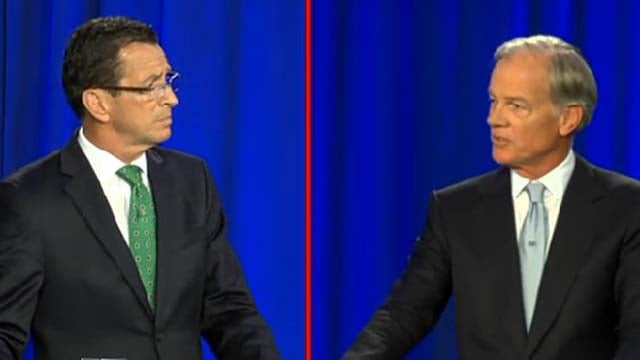 Gov. Dannel Malloy and Republican challenger Tom Foley at a recent debate.
HARTFORD, CT (AP) -
Some political heavy-hitters are coming to Connecticut to help out in the state's close race for governor.
President Barack Obama is scheduled Wednesday to appear in Bridgeport at a rally for Gov. Dannel Malloy. The Democrat is being challenged by Republican businessman Tom Foley. A new Quinnipiac University Poll shows the race is a dead heat.
Former President Bill Clinton is also scheduled to join Malloy at a rally in Hartford.
Republican Gov. Bobby Jindal of Louisiana is expected to make an appearance with Foley on Friday. In February, Jindal and Malloy participated in an on-camera, partisan feud outside the White House over Obama's proposal to increase the federal minimum wage.
New Jersey Gov. Chris Christie is making his fourth visit to Connecticut for Foley on Tuesday.
Copyright 2014 The Associated Press. All rights reserved. This material may not be published, broadcast, rewritten or redistributed.