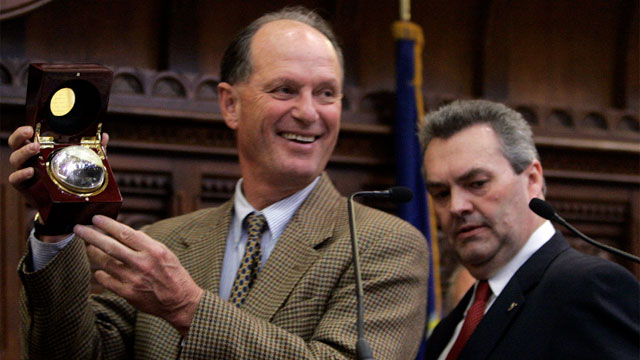 Undersea explorer Robert Ballard holds a compass he was presented during a ceremony honoring him as one of "Connecticut's Finest" in the Hall of the House at the state Capitol in Hartford, Conn., Wednesday, May 16, 2007.
NEW LONDON, CT (AP) -
Oceanographer Robert Ballard has ended his 15-year relationship with Mystic Aquarium that exhibited his discoveries of wrecks including John F. Kennedy's PT-109 and the Titanic.
Ballard said Monday his work with his Ocean Exploration Trust and the Center for Ocean Exploration at the University of Rhode Island are taking up much of his time.
The Day of New London reports that the 72-yer-old Ballard said he had "a great run" at the aquarium.
He began at the aquarium in 2000 and helped it obtain state funding for a major expansion and renovation. Ballard agreed to stay for 10 years.
Aquarium President Stephen Coan said Ballard's departure is bittersweet after working closely with him for 20 years. He says the aquarium will continue to feature Ballard's exhibits and expeditions.
Information from: The Day, http://www.theday.com
Copyright 2014 The Associated Press. All rights reserved. This material may not be published, broadcast, rewritten or redistributed.