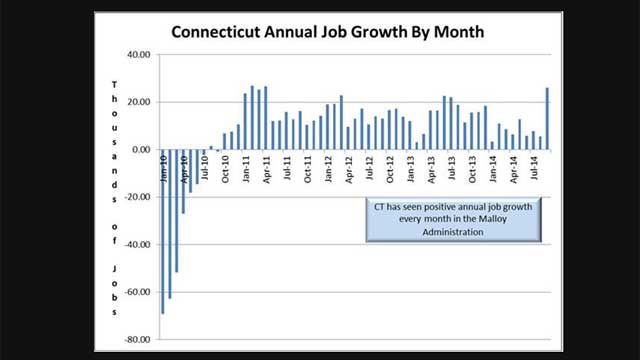 The governor's office tweeted "when you look at annual job growth on a monthly basis, #CT has gained jobs every single month during the Malloy admin[istration.]
HARTFORD, CT (AP) -
The state Labor Department has announced that employers in Connecticut added 11,500 jobs in September, cutting the unemployment rate to its lowest in nearly six years.
The monthly report released Monday shows the unemployment rate fell to 6.4 percent, from 6.6 percent in August. It's the lowest since November 2008.
Andy Condon, the Department of Labor's research director, said some gains were expected, particularly in publiceducation and leisure and hospitality affected by seasonal shifts. Still, he said the numbers are "very encouraging."
The monthly employment release is the last before Election Day on Nov. 4.
Democratic Gov. Dannel P. Malloy, who is in a tight re-election battle with Republican challenger Tom Foley, reacted immediately to the jobs report. He called it a sign of "steady progress."
"There is still much more that must be done so our state is better prepared to continue this progress in the future. We can't be satisfied until everyone in our state who wants a job has one," Malloy tweeted on Monday.
To read the full report, click here.
Copyright 2014 The Associated Press. All rights reserved. This material may not be published, broadcast, rewritten or redistributed.