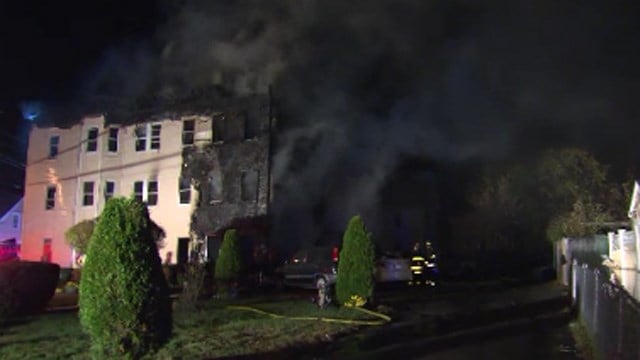 Two children died in this apartment fire, according to fire officials. (CBS photo)
LAWRENCE, MA (AP) -
Two children have died in an early morning apartment fire in Lawrence, Massachusetts.
State Fire Marshal Stephen Coan says the two young boys were found in a bedroom of a third-floor apartment in the six-unit building.
Officials didn't immediately release their names and exact ages.
The four-alarm blaze was reported at about 3 a.m. Tuesday. Video from the scene showed flames shooting out of the roof.
Coan says the cause remains under investigation, but the building had smoke alarms.
Three other residents and one firefighter were hurt. The extent of the injuries wasn't immediately released.
Mayor Daniel Rivera says the city will do all it can to help the displaced families and firefighters.
Copyright 2014 The Associated Press. All rights reserved. This material may not be published, broadcast, rewritten or redistributed.