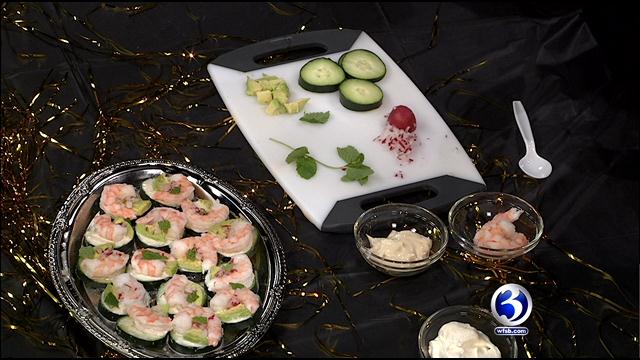 ROCKY HILL, CT (WFSB) -
Here is the recipe for the Shrimp and Avocado Appetizers
Ingredients:
¼ c reduced-calorie mayonnaise
1 tsp prepared wasabi paste
½ tsp soy sauce
½ large, seedless cucumber, cut into 24 ¼-inch thick slices
½ medium avocado, quartered and cut into 24 slices
8 oz cooked shrimp (about 24 small), peeled and deveined
2 large, fresh radishes, julienned
¼ c mint leaves, for garnish
Instructions:
For Wasabi Mayonnaise:
In a small bowl, stir together mayonnaise, wasabi paste and soy sauce until smooth. NOTE: If you can't find wasabi paste, substitute wasabi powder.
Place cucumber slices on a serving platter.
Spread each with ½ tsp of wasabi mayonnaise.
Place a slice of avocado on top and then top each with a shrimp.
Top each with julienned radish and a mint leaf.
Per serving (2 appetizers): 55 cal, 3g total fat, 1 g sat fat, 230 mg sod, 2 g total carb, 0 g sugar, 1 g fib, 5 g prot. PPV: 1