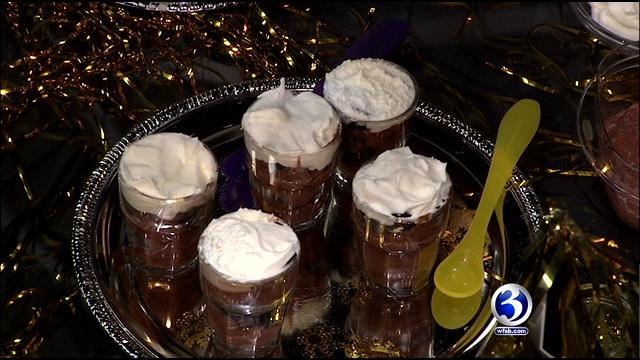 ROCKY HILL, CT (WFSB) -
Here is recipe for Chocolate-Espresso Mousse Shots
Ingredients:
2 tsp instant espresso
1 Tbsp hot water
1 package fat-free, sugar-free instant chocolate pudding and pie filling mix (1.4 oz)
1 ½ c fat-free skim milk
1 ½ c fat-free whipped topping, divided
16 chocolate wafers, lightly broken
Directions:
In a small bowl, combine espresso and water until dissolved; let cool to room temperature.
In another bowl, whisk together pudding mix and skim milk until well combined; whisk in espresso mixture and then fold in ½ c whipped topping.
Line up 16 shot glasses and spoon 1 Tbsp pudding in each one; top each with 1 ½ tsp cookie pieces, 1 ½ Tbsp pudding and 1 more teaspoon cookie pieces.
Garnish each with 1 Tbsp whipped topping before serving. Yields 1 shot glass per serving.
Per serving (1 shot): 54 cal, 1 g total fat, 0 g sat fat, 133 mg sod, 10 g total carb, 3 g sugar, 0 g fib, 1 g prot. PPV: 1
Copyright 2014 WFSB (Meredith Corporation). All rights reserved.