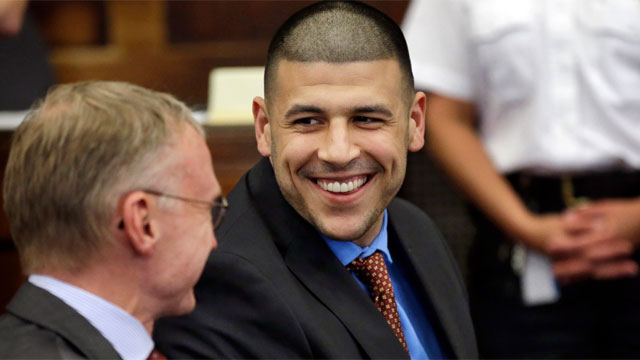 FALL RIVER, MA (AP) -
Jury selection is underway in Massachusetts in the murder trial of former New England Patriots player Aaron Hernandez.
Hernandez appeared Friday before around 125 potential jurors. A Bristol County Superior Court clerk read out the charges against him in the June 2013 shooting of semiprofessional football player Odin Lloyd.
Hernandez greeted jurors with a "good morning."
Each juror had an envelope containing a questionnaire. The judge asked them to fill it out completely and said they shouldn't discuss their jury service or the case with anyone.
More than 1,000 people are expected to report as prosecutors and defense lawyers haggle over who to seat on the jury.
Hernandez had a $40 million contract as a tight end when Lloyd was gunned down. Lloyd was dating the sister of Hernandez's fiancee.
Copyright 2015 The Associated Press. All rights reserved. This material may not be published, broadcast, rewritten or redistributed.