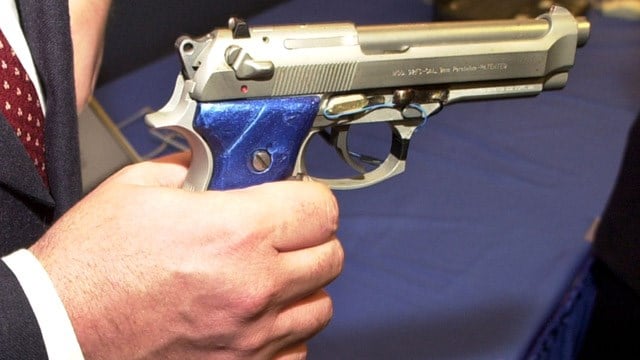 A prototype of a smart gun with grip recognition. (AP photo)
NEWTOWN, CT (WFSB) -
Religious leaders and citizens gathered Thursday to push for gun safety in the wake of the Sandy Hook Elementary School shooting.
Leaders of the "Do Not Stand Idly By" campaign were in Newtown Thursday morning to ask the National Shooting Sports Foundation to help end the campaign of intimidation aimed at keeping "smart guns" off the market.
They said smart guns are personalized guns with built-in user-authentication technology. It essentially prevents firing by unauthorized shooters.
Advocates for the guns claim backlash and threats of violence from guns rights activists forced some dealers across the country to withdraw the products.
The foundation, which is headquartered in Newtown, hosts a trade show in Las Vegas next week.
"The SHOT Show is the gun industry's Christmas, Rosh Hashanah and Ramadan all rolled into one," said Rev. Anthony Bennett, a Bridgeport Baptist pastor. "Thousands of gun enthusiasts will be gathered. There's no better time and place to get the word out that the bullying has got to stop. That the market should be allowed to work."
The group is asking the foundation to educate attendees of the show about the benefits of smart guns.
"If folks are truly interested in guns for self-protection, gun manufacturers and NSSF should welcome discussions with concerned community leaders like ourselves," said Rabbi Shaul Praver, a first responder in Sandy Hook and spiritual leader of Congregation Adath Israel of Newtown. "Together we can advance gun safety and save many lives."
Copyright 2015 WFSB (Meredith Corporation). All rights reserved.