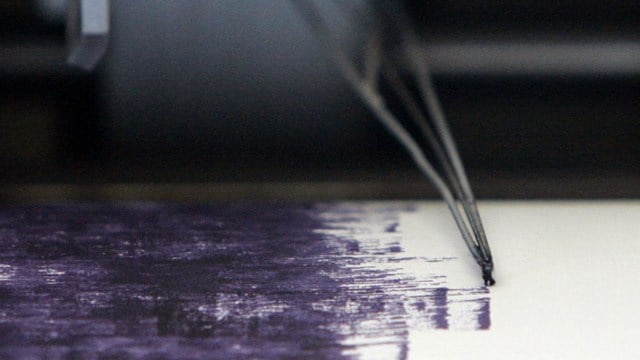 (AP photo)
HARTFORD, CT (WFSB) -
The following checklist was released by the Connecticut Department of Emergency Services and Public Protection on how to be prepared for an earthquake:
Identify a safe place in each room of your home – under a piece of sturdy furniture, or against an interior or load-bearing wall.
Practice "drop, cover, and hold on" in each safe place.
Bolt and brace water heaters, gas appliances, bookcases, china cabinets and other tall furniture to wall studs.
Locate the gas and water valves in your home and learn how to shut them off.
If you use propane gas, make sure it is securely anchored and the shut off value can be easily reached. If you smell gas, do not turn on electrical appliances or lights, evacuate the home, and call the utility from a safe place.
Keep and maintain an emergency supply kit that is easily accessible and includes basic supplies – including a portable radio, flashlight, fresh batteries, a first aid kit and bottled water.
Check your home for structural damage or cracks, (including foundations, chimneys, and wood stove piping) on a regular basis. Contact your local building official if you notice any damage.
To prepare for any incident, including an earthquake, have family and workplace emergency plans.
Sign up with www.CTAlert.gov to receive any emergency information sent out in your town.
For more information,
click here
or contact the American Red Cross by
clicking here.
Copyright 2015 WFSB (Meredith Corporation). All rights reserved.