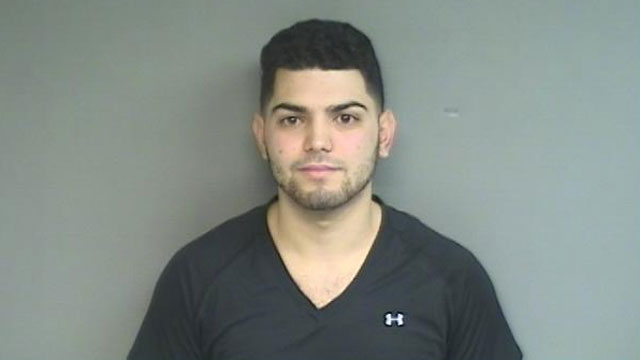 Nickson Nikollaj was charged with harassment and threatening. (Stamford police)
STAMFORD, CT (AP) -
Police have arrested a man who appeared to be texting pictures of himself holding an assault-type rifle to a woman he doesn't know.
The Stamford Advocate reports that a woman reported receiving the texted photos.
One photo showed a man pointing an assault rifle at a camera and another showed him holding a gun with a high-capacity magazine.
The unidentified woman said she did not know the man or he sent the message.
Police recognized a Stamford man, Nickson Nikollaj, in the photo. He was charged with threatening and harassment
Nikollaj told police the pictures were taken while he was on vacation in Kosovo. He also said he intended to send the photos to a friend, but mistakenly sent them to the woman.
It wasn't known Tuesday morning if he's represented by a lawyer.
Information from: The Advocate, http://www.stamfordadvocate.com
Copyright 2015 The Associated Press. All rights reserved. This material may not be published, broadcast, rewritten or redistributed.