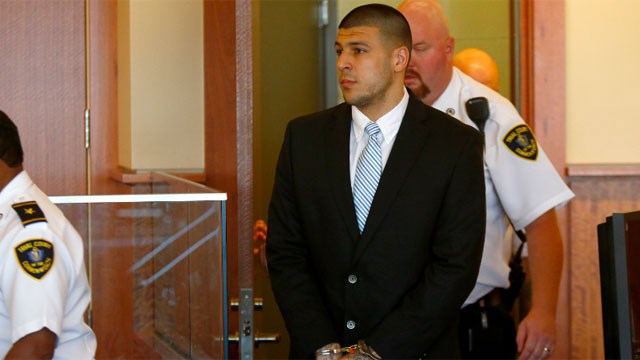 AP file photo of Aaron Hernandez arriving at court
FALL RIVER, MA (AP) -
The judge overseeing the murder trial of former NFL player Aaron Hernandez has struck some testimony from an employee of firearms manufacturer Glock who said surveillance video showed Hernandez carrying a gun less than 10 minutes after the killing.
The judge said Thursday that jurors must disregard certain testimony from Kyle Aspinwall, who identified a black object in Hernandez's hand several times on the video as a gun based on various characteristics.
She says they can still consider testimony from him identifying the object as a gun based on the back strap, but they can't consider testimony about other characteristics, including a trigger guard and front strap.
The defense has said it could have been a TV remote.
Hernandez is charged with killing Odin Lloyd, who was dating the sister of Hernandez's fiancee.
Copyright 2015 The Associated Press. All rights reserved. This material may not be published, broadcast, rewritten or redistributed.