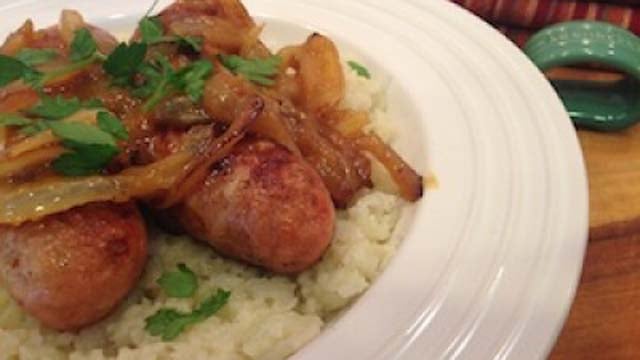 (Cindy's Table)
HARTFORD, CT (WFSB) -
Bangers and mash is a traditional Irish meal, but one chef took a different spin to make it a little easier on the waistline.
2 tablespoons olive oil
8 pork sausage links
1 large head cauliflower (if small then use 2)
5 tablespoons unsalted butter, divided
1/4 cup low sodium chicken broth
1 teaspoon dry mustard
1 large onion, chopped
4 cups low sodium beef broth
1/4 cup red wine
2 teaspoons arrowroot powder
Sea salt
Freshly ground pepper
1. Preheat oven to 200 degrees F.
2. In a large sauté pan over medium heat add in oil then sausage. Cook for about 10 minutes turning often. Remove from pan and place on a baking sheet then place in the oven to stay warm.
3. Take the head of cauliflower and cut into florets. Place in a large glass bowl and add about 1 cup of water. Microwave for 10 minutes. Drain then place in a bowl then add in 3 tablespoons butter, chicken broth and dry mustard and mash together. Put in an oven safe bowl and keep warm.
4. In the same sauté pan wipe down with a clean paper towel. Add in the two remaining tablespoons butter and let melt. Once the butter is hot add in chopped onions and 1 teaspoon of sea salt and 1/2 teaspoon of pepper. Cook for about 3 minutes.
5. Pour in beef broth and bring to a high steam. Pour in wine and once it's very hot whisk in arrowroot powder. Reduce heat to a low and let the gravy reduce about 1/4.
To serve add a scoop cauliflower then top with 2 sausages then pour over gravy. Then enjoy!
For more recipes from Cindy's Table, click here.
Copyright 2015 WFSB (Meredith Corporation). All rights reserved.