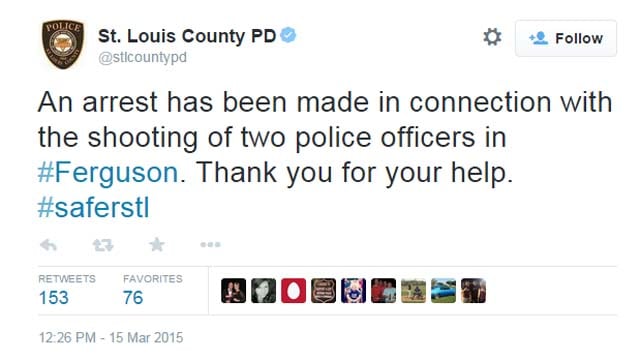 FERGUSON, MO (WFSB) -
St. Louis County Police announced on Sunday that an arrest had been made in connection with the shooting of two Ferguson, police officers.
It is unclear who the suspect arrested is.
Two police officers were shot outside of the Ferguson Police Department in Missouri, shortly after midnight on Thursday.
Police said a 32-year-old officer from a neighboring town was shot in the face while a 41-year-old officer from the county police force was hit in the shoulder. They were rushed to a nearby hospital.
The shooting came after hundreds of people
gathered on Wednesday night
to protest outside of the building, following Chief Thomas Jackson's resignation.
Stay updated with Eyewitness News as more information becomes available.
Copyright 2015 WFSB (Meredith Corporation). All rights reserved.