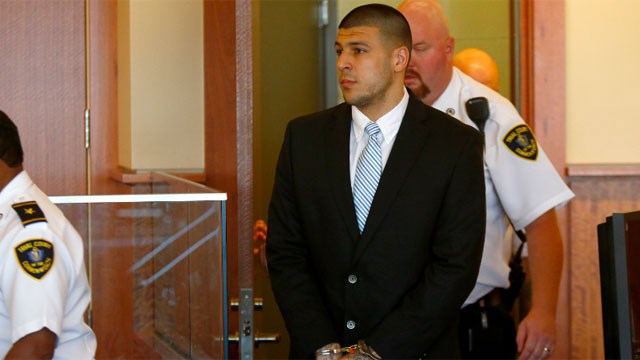 AP file photo of Aaron Hernandez arriving at court
FALL RIVER, MA (AP) -
More surveillance camera footage played in the murder trial of former New England Patriots player Aaron Hernandez shows headlights moving away from the crime scene the night of the killing.
Hernandez has pleaded not guilty to the June 2013 killing of Odin Lloyd. Lloyd was dating the sister of Hernandez's fiancee. He was shot to death in an empty lot in an industrial park near Hernandez's home.
Prosecutors on Tuesday played grainy surveillance videos that showed lights moving toward and from the scene.
On Wednesday, they played two more that showed headlights leaving the industrial park at 3:27 a.m., four minutes after Lloyd sent his last text message.
None of the grainy videos showed what kind of car it was or how many passengers were inside.
Copyright 2015 The Associated Press. All rights reserved. This material may not be published, broadcast, rewritten or redistributed.