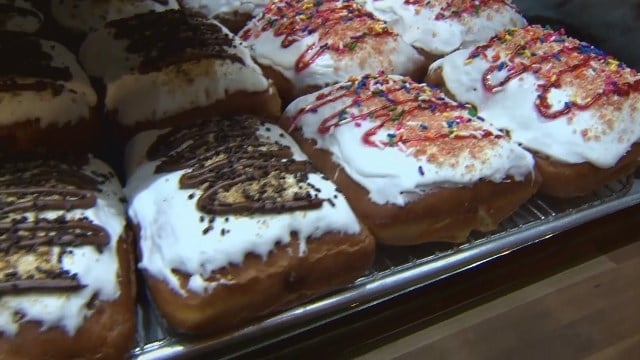 New "doughnut" could be next big breakfast (CBS)
(CBS) -
Hybrid bakery treats are a big hit, like the cronut, which is a croissant-doughnut hybrid that was served nationwide.
Now, a bakery in southern California has blended two childhood breakfast favorites, which could be the next big craze.
The breakfast heavyweight is called the "Big Poppa Tart" and weighs one pound.
It is a doughnut with a pop tart baked right in the middle.
The restaurant makes 100 per day and sells out in about two hours.
Doughnut shops raked in nearly $13 billion last year and experts estimate there are about 9,000 doughnut shops across the country.
The "Big Poppa Tart" is only available in southern California, and the store won't ship its creation, only deliver it by car to make sure it arrives fresh.
Industry analysts expect doughnut stories to grow to over 21,000 by 2019.
© 2015 CBS Interactive Inc. All Rights Reserved. This material may not be published, broadcast, rewritten, or redistributed.