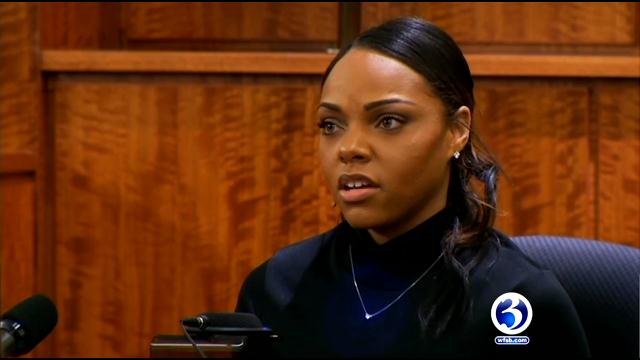 Shayanna Jenkins.
FALL RIVER, MA (AP) -
The fiancee of former New England Patriots player Aaron Hernandez has testified that after she dropped him off at a police station to be questioned over the slaying of her sister's boyfriend, he told her to meet one of his co-defendants and give him money.
Shayanna Jenkins was granted immunity to testify in Hernandez's murder trial Friday.
Hernandez is accused in the June 17, 2013, killing of Odin Lloyd, who was dating Jenkins' younger sister.
Jenkins says Hernandez told her to meet Ernest Wallace after she dropped him off. Wallace and a third man, Carlos Ortiz, have pleaded not guilty in the killing and will be tried later.
Jenkins then drove to Rhode Island and gave Wallace $500, the maximum she could withdraw from an ATM.
She said he told her everything would be OK, and she told him to "be safe."
She and Hernandez have a 2-year-old daughter together and were high school sweethearts.
Jenkins has pleaded not guilty to perjury in connection with the case. Prosecutors say she lied to a grand jury investigating the killing.
Copyright 2015 The Associated Press. All rights reserved. This material may not be published, broadcast, rewritten or redistributed.