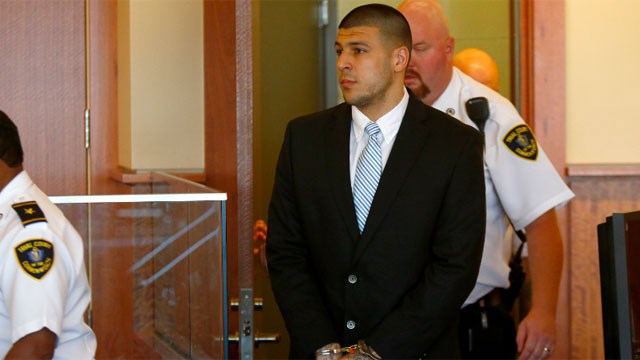 AP file photo of Aaron Hernandez arriving at court
FALL RIVER, MA (AP) -
A Massachusetts medical examiner testifying in the murder trial of former New England Patriots star end Aaron Hernandez is detailing the victim's gunshot wounds.
Dr. William Zane is expected to be the last witness called by the prosecution before it rests Thursday.
His testimony was graphic at times as he detailed the wounds that killed Odin Lloyd on June 17, 2013.
Hernandez has pleaded not guilty to murder in Lloyd's killing. Lloyd was dating the sister of Hernandez's fiancee.
Lloyd's mother and other family members were sitting in their usual spot in the front row behind prosecutors Thursday morning. His mother left the room ahead of Zane's testimony.
Defense lawyer James Sultan has previously said he expects to present witnesses and rest his case Monday.
Copyright 2015 The Associated Press. All rights reserved. This material may not be published, broadcast, rewritten or redistributed.