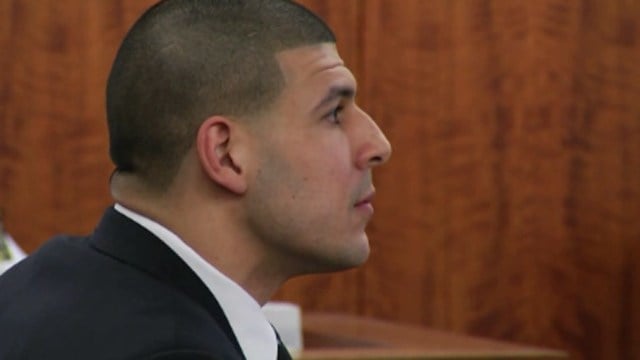 (CNN photo)
FALL RIVER, MA (AP) -
A Boston TV station says it didn't approach or take pictures of any juror deliberating in the murder trial of Aaron Hernandez, and it's working with the court after a judge said two jurors reported that they were followed by one of the station's workers.
WHDH-TV issued the statement Thursday after Superior Court Judge Susan Garsh said someone from the station must take the stand and testify under oath about what happened. She said if that doesn't happen, the station will be banned from the courthouse.
Two jurors reported that they were followed Wednesday after their second day of deliberations.
Meanwhile, the 12 jurors resumed deliberations Thursday.
Hernandez is charged with the June 2013 shooting death of Odin Lloyd, who was dating his fiancée's sister.
Copyright 2015 The Associated Press. All rights reserved. This material may not be published, broadcast, rewritten or redistributed.