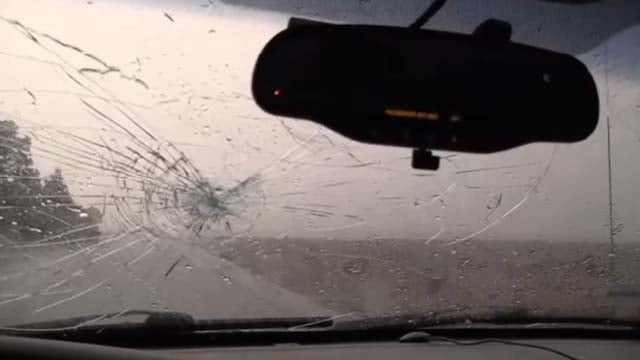 It was a rough drive for this weather chaser during a massive storm. (CBS)
(CBS) -
It was a rough drive for this weather chaser during a massive storm.
Parts of Oklahoma and Kansas were recently pounded by hail.
The driver's windshield was destroyed by the massive, tennis ball sized, hail stones.
In Kansas, a tornado was reported near Garden Plain, and another was seen near Medicine Lodge, Kansas. A tornado watch was issued for Sedgwick, Butler, Cowley, Harper, Kingman and Sumner counties until midnight.
In Wichita, the fire marshal urged residents to be prepared for severe weather by assembling a preparedness kit, in case power goes out, and be ready to move to a basement or an interior room with no windows.
© 2015 CBS Interactive Inc. All Rights Reserved. This material may not be published, broadcast, rewritten, or redistributed.