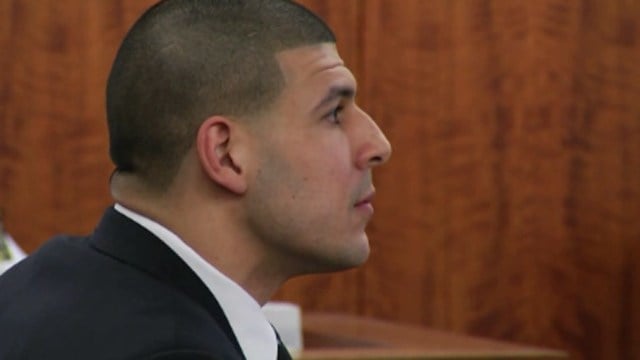 (CNN photo)
FALL RIVER, MA (AP) -
The jury in the murder trial of former New England Patriots player Aaron Hernandez has begun its sixth day of deliberations.
The jurors resumed their work Tuesday morning. So far, they have deliberated for more than 27 hours.
Hernandez has pleaded not guilty in the killing of Odin Lloyd in June 2013. Lloyd was dating the sister of Hernandez's fiancee.
Jurors must reach a unanimous verdict. In addition to the murder charge, they are also deciding whether to convict Hernandez of weapon and ammunition possession charges.
If convicted of first-degree murder, Hernandez would be sentenced to life in prison without parole. If convicted of second-degree murder, he would get life with the possibility of parole after 15 years.
Copyright 2015 The Associated Press. All rights reserved. This material may not be published, broadcast, rewritten or redistributed.