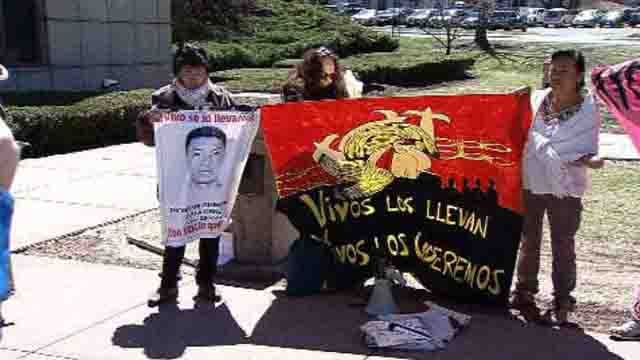 Relatives of students missing in Mexico rally in Connecticut (WFSB)
HARTFORD, CT (WFSB) -
Relatives of some of the 43 students who disappeared last September in Mexico are visiting Connecticut this week to protest what they describe as human rights abuses in Mexico and the United States.
The family members held a rally in Hartford on Wednesday and have a protest scheduled in New Haven on Thursday.
The missing students have not been seen since Sept. 26 when prosecutors allege they were stopped by Iguala police and turned over to a drug gang, which killed them and incinerated their remains. The Mexican government has said it is committed to bringing those responsible to justice.
Groups of parents have been visiting cities around the United States to raise awareness of the case and press for more involvement by international bodies including the United Nations.
Copyright 2015 The Associated Press. All rights reserved. This material may not be published, broadcast, rewritten or redistributed.