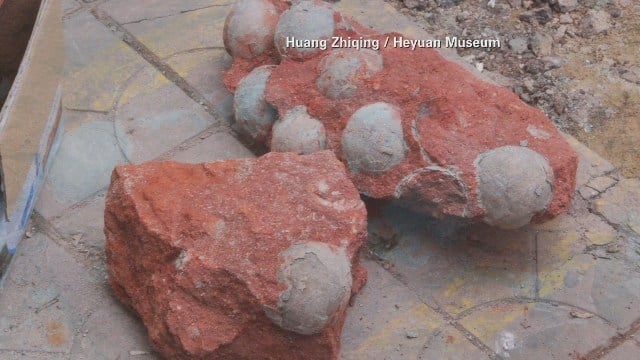 Heyuan City in China unearthed more dinosaur eggs. (CNN/Heyuan Museum photo)
HEYUAN CITY, CHINA (CNN) -
A Chinese city that boasts the largest number of dinosaur eggs in the world has added a new batch to its collection.
Officials said construction workers unearthed 43 fossilized dinosaur eggs during road repair work in Heyuan City Sunday.
In 2004, the city won a Guinness World Record for the world's largest collection of dinosaur eggs at its museum.
A museum spokesperson said 19 of the new eggs are completely intact, with the largest measuring as much as five inches in diameter.
Researchers said they will continue to examine the fossils to determine which dinosaur species laid them.
Nearly 17,000 dinosaur eggs have been uncovered in the city since the first group of fossils was found in 1996 by children playing at a construction site, according to China's official news agency.
© 2015 Cable News Network.Turner Broadcasting System, Inc. All Rights Reserved.