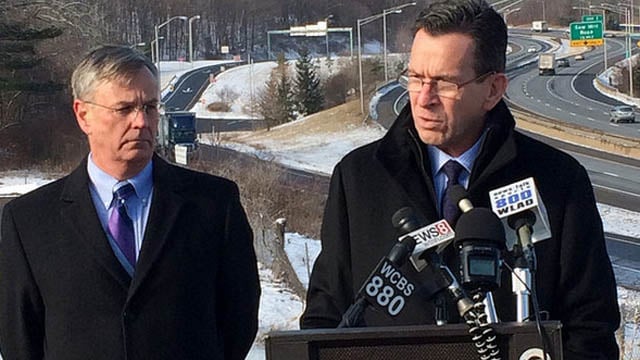 Gov. Dannel Malloy said in Jan. that widening I-84 in Danbury is crucial to economic growth. (Governor's office photo)
HARTFORD, CT (AP) -
The commission created by Gov. Dannel P. Malloy to come up with a way to pay for his proposed overhaul of Connecticut's transportation system is meeting for the first time.
The governor's nine-member Transportation Finance Panel was formed late last month, charged with coming up with recommendations by the end of the summer on how to cover the $100 billion cost of the Democratic governor's 30-year plan. Members are scheduled meet on Tuesday at the Legislative Office Building.
Both Department of Transportation Commissioner James Redeker and Office of Policy and Management Secretary Ben Barnes are expected to make presentations to the group.
The panel's members include experts in transportation, finance and economic development. They're expected to investigate various ways to generate additional transportation revenue, including electronic highway tolls.
Copyright 2015 The Associated Press. All rights reserved. This material may not be published, broadcast, rewritten or redistributed.