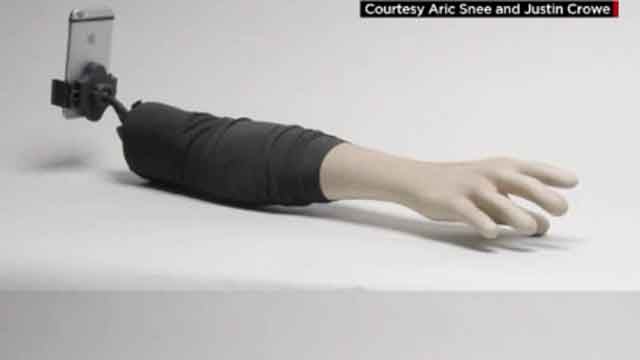 Selfie stick gets an upgrade (CNN)
(CNN) -
The selfie stick has gotten an upgrade.
The stick is now an arm that is supposed to come in handy and possibly make selfies look less lonely.
The selfie stick has only been around for a few years and already there is a next generation.
With the selfie arm, all users do is stick the phone in the clip and hold the selfie arm by the hand.
Users end up looking like they have a friend in their photo.
As the designers said, "Nobody wants to look alone while they mindlessly snap pictures of themselves."
Created by two artists as sarcastic commentary on the selfie stick phenomenon, it may come across as similar to the "boyfriend pillow."
The selfie arm was sculpted out of clay and then wrapped in fiberglass and hollowed out.
The arm will actually end up costing people an arm and a leg. Only 10 signed selfie arms will be sold, for more than $6,000.
© 2015 Cable News Network. Turner Broadcasting System, Inc. All Rights Reserved.