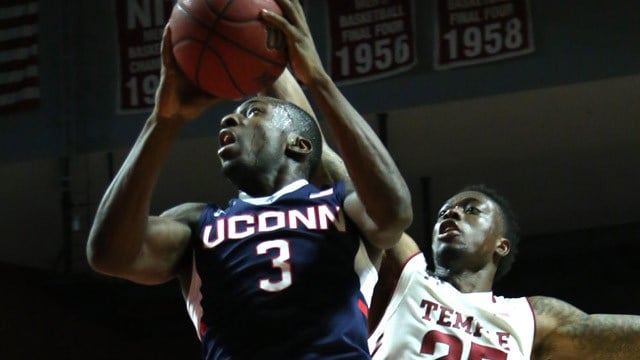 Terrence Samuel (3) drives to the basket as Temple guard Quenton DeCosey (25) on March 7. (AP photo)
STORRS, CT (AP) -
UConn says point guard Terrence Samuel has been granted his release from the team and plans to transfer.
During his two years at UConn, Samuel appeared in 65 games, starting eight, and averaged 3 points, 1.7 rebounds, and 1.2 assists per game.
Samuel played an average of just over 20 minutes backing up Ryan Boatright as the Huskies went 20-15 last season, losing in the first round of the NIT Tournament.
Coach Kevin Ollie issued a statement Thursday night praising Samuel for giving his best "on the court and in the classroom" and wishing him well.
He is the second player to transfer from UConn in the offseason. Forward Rakim Lubin left the team last month.
Copyright 2015 The Associated Press. All rights reserved. This material may not be published, broadcast, rewritten or redistributed.