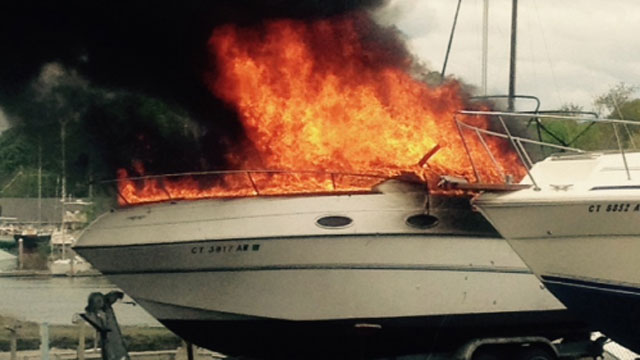 Firefighters battled boat fire at Indian Neck Yacht Club on Wednesday (Branford Fire Department)
BRANFORD, CT (WFSB) -
Branford firefighters battled their second boat fire of the week on Wednesday morning.
The fire was reported at Indian Neck Yacht Club, which is at 87 Harding Ave., along the Branford River around 9:10 a.m. Upon arrival, the boat was on fire while still on land.
No one was on the boat at the time of fire. No firefighters reported being injured.
The fire was discovered by other boaters who were working on their boats in the yard.
According to the preliminary investigation, the origin of the fire started in stern/rear area. It is believed to be an electrical fire that started inside the vessel.
Copyright 2015 WFSB (Meredith Corporation). All rights reserved.