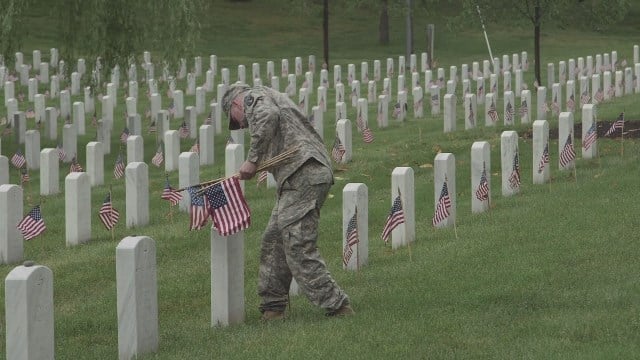 (CNN photo)
ARLINGTON, VA (CNN) -
Millions of Americans will pause today to honor those who paid the ultimate sacrifice.
In Virginia's Arlington National Cemetery, a 60-year tradition continues.
Last week, the 3rd U.S. Infantry Regiment, also known as "The Old Guard," placed more than 228,000 flags at grave sites to honor the nation's fallen heroes.
The tradition, known as "Flags In," is something the regiment has been doing since 1948.
Also last week, the Channel 3 Liberty Bank SurPRIZE Squad sought to honor military service men and woman in a similar way. Its story can be found here.
© 2015 Cable News Network.Turner Broadcasting System, Inc. All Rights Reserved. WFSB (Meredith Corporation) contributed to this report.