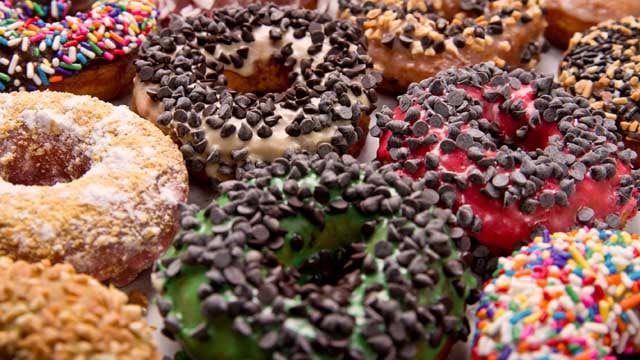 Friday is National Donut Day (AP Images)
HARTFORD, CT (WFSB) -
There will be a 'hole' lot of happiness on Friday, as it is National Donut Day.
The day was started by the Salvation Army in Chicago in 1938, and honors the group's "donut lassies," who served treats and provided assistance to soldiers on the front lines during World War I.
However, this shouldn't be confused with National Doughnut Day, which is in November and celebrates the actual treat.
On Friday, June 5, Dunkin Donuts will be giving away free donuts to anyone who purchases a beverage.
Doughnuts have been around since long before the First World War, and were introduced by the Dutch.
The Dutch would make "olykoek," which translates to oily cake.
The first Dutch doughnuts didn't have a hole, but they were fried in hot oil and the dough was sweet.
It wasn't until 1847 that the holed-out doughnut appeared.
Copyright 2015 WFSB (Meredith Corporation). All rights reserved.