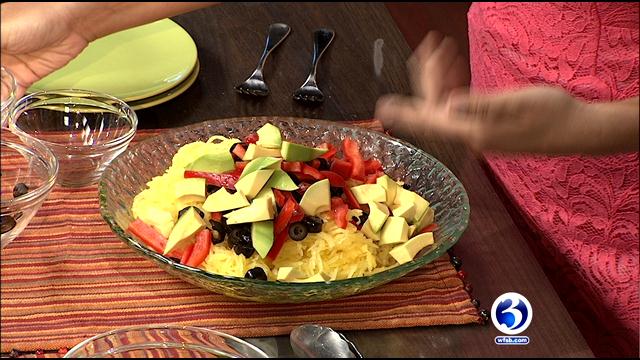 Cindy from Cindy's Table makes Paleo Pasta Salad with Avocado Oil Vinaigrette (WFSB)
ROCKY HILL, CT (WFSB) -
Here is the recipe for Paleo Pasta Salad with Avocado Oil Vinaigrette from Cindy's Table:
INGREDIENTS
1 medium spaghetti squash
4 ounces mushrooms
sliced 1/2 red bell pepper stemmed and julienne-sliced,
1 small can sliced black olives, drained,
1 breast chicken, from rotisserie,
1 ripe, avocado, peeled, seeded and sliced
1/2 teaspoon sea salt
1/4 teaspoon freshly ground pepper
Avocado Oil
Vinaigrette Ingredients
1/4 cup avocado oil
1/4 cup low-sodium chicken broth
1 tablespoon fresh lemon juice
2 cloves garlic, crushed,
1 teaspoon dried oregano
1 teaspoon dried basil
1 teaspoon dried rosemary
1/2 teaspoon dry mustard
1/2 teaspoon Worcestershire sauce
DIRECTIONS
Prepare Avocado Oil Vinaigrette up to 24 hours before serving; refrigerate.
Halve squash lengthwise; scoop out seeds. Place halves cut-side down in a large saucepan; add water to a depth of 2 inches. Cover and bring to a boil. Reduce heat; simmer squash 20 minutes.
Drain and cool squash. With a fork, pull off spaghetti-like stands of the squash and place in a large salad bowl.
Add remainder of ingredients and toss with the spaghetti squash
Top with vinaigrette before serving
For more information, click here.
Copyright 2015 WFSB (Meredith Corporation). All rights reserved.