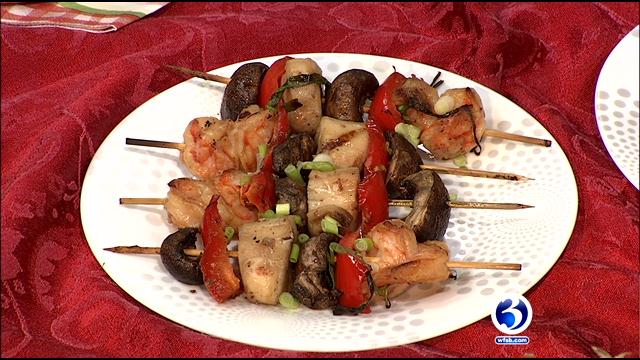 Weight Watchers makes soy-wasabi shrimp and scallop skewers. (WFSB)
ROCKY HILL, CT (WFSB) -
Here's the recipe for soy-wasabi shrimp and scallop skewers featured on WFSB this weekend:
Ingredients
5 medium uncooked scallion(s)
6 Tbsp low sodium soy sauce
3 tsp wasabi powder
1 Tbsp honey
1 1/2 tsp ginger root, fresh, grated
16 large uncooked shrimp, fresh, peeled and deveined
1 pound(s) uncooked scallop(s), sea-variety (about 16 scallops)
1 large sweet red pepper(s), cut into 16 chunks 8 medium cremini mushroom(s), caps, halved
4 spray(s) cooking spray
Instructions
Preheat outdoor grill (or grill pan). Cut white and light green parts of scallions into sixteen 1-inch lengths; thinly slice darker green parts.
In a small bowl, stir together soy sauce, wasabi, honey and ginger until blended.
Pour 1/4 cup of soy mixture into a large bowl; set remaining soy mixture aside. Add shrimp, scallops, pepper, mushrooms and 1-inch length scallions to bowl; toss to coat.
Alternately thread 2 pieces each of shrimp, scallops, peppers, mushrooms and scallions onto each of 8 ten-inch metal or wooden skewers.* Lightly coat skewers with cooking spray.
Grill skewers, turning as needed, just until shrimp and scallops are cooked through, about 4 to 5 minutes. Remove to serving plates or platter and drizzle with reserved soy mixture.
Sprinkle with reserved sliced scallions and serve. Yields 2 skewers per serving.
Notes:
Wasabi (or Japanese horseradish) has quite a kick so you may want to add more or less according to your taste. Serve skewers with jasmine rice. If you're using wooden skewers, soak them in water for 20 minutes before use to prevent charring.
For more information, click here.
Copyright 2015 WFSB (Meredith Corporation). All rights reserved.