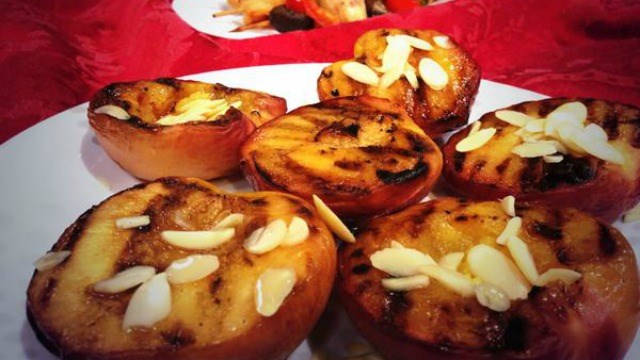 Check out the recipe for Grilled Peaches with Almonds and Honey. (WFSB)
ROCKY HILL, CT (WFSB) -
Here's the recipe for the Grilled Peaches with Almonds and Honey that was featured on WFSB this weekend:
Ingredients
2 spray(s) cooking spray
4 large peach(es), firm but ripe, cut in half, pits removed
2 Tbsp sliced almonds, natural, chopped
2 tsp honey, mild (such as clover honey)
Instructions:
Coat a grill or a grill pan with cooking spray. Preheat to medium heat.
Place peach halves, cut sides up, on a flat surface; lightly spray tops of peaches with cooking spray.
Place peach halves on grill, skin sides down, and cook until skin starts to split, about 2 minutes. Using tongs, carefully flip peaches and cook, until grill marks appear, about 2 minutes more.
Remove peaches from grill and place on a serving plate; top each peach with 3/4 teaspoon of almonds and drizzle each with 1/4 teaspoon of honey. Yields 2 peach halves per serving.
For more information, click here.
Copyright 2015 WFSB (Meredith Corporation). All rights reserved.