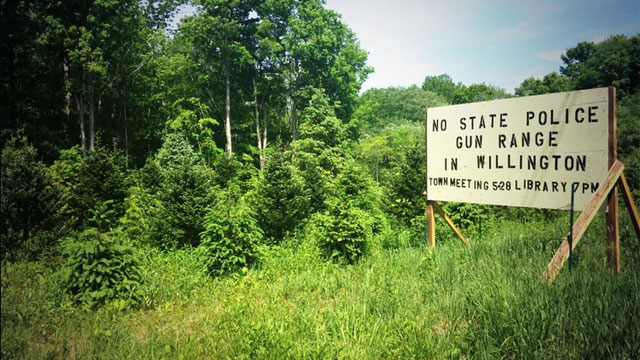 Signs up were posted all over Willington opposing moving the CT State Police firing range to town. (WFSB)
HARTFORD, CT (WFSB) -
Connecticut State Police are again facing resistance over a proposed new firing range complex, this time by residents of two towns where potential sites for the project have been identified.
Willington and East Windsor residents have voiced concerns to state and local officials about the project, citing worries about noise, safety and pollution. State officials recently held a public hearing in each town. A site in Glastonbury was eliminated two years ago amid similar opposition from residents.
Plans call for a 55,000-square-foot building with indoor shooting areas and outdoor ranges for pistols, rifles, shotguns and active shooter training.
State police say the current range in Simsbury is too prone to flooding from the Farmington River. Officials say floods in 2007 and 2011 caused hundreds of thousands of dollars in damage.
Copyright 2015 The Associated Press. All rights reserved. This material may not be published, broadcast, rewritten or redistributed.