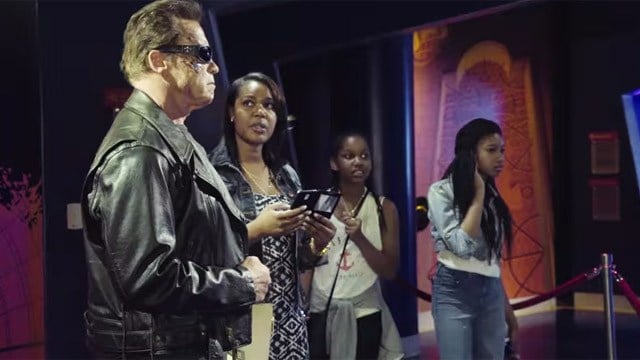 (YouTube photo)
HOLLYWOOD, CA (WFSB) -
As if delivering on his most famous promise, he's back.
Arnold Schwarzenegger donned his Terminator attire and scared the heck out of fans, but for a good cause.
The actor posted a video of himself dressed as the iconic cybernetic organism to his YouTube account. In it, he surprised fans on the street as well as pretended to be a wax figure at Madame Tussauds in Hollywood.
As fans commented that he "looked so real," the lifelike Terminator would make a move, spooking those standing closest to him.
"What the matter?" he'd innocently ask.
Check out the video here.
Schwarzenegger said the whole thing was to promote his new movie, Terminator Genisys.
He has a contest running on his YouTube page where he'll give a fan an opportunity to ride up to the movie premiere with him. Here are the details.
Schwarzenegger said every $10 entry supports after school programs through After-School All-Stars. It's a program meant to keep children safe and help them succeed in school.
Copyright 2015 WFSB (Meredith Corporation). All rights reserved.