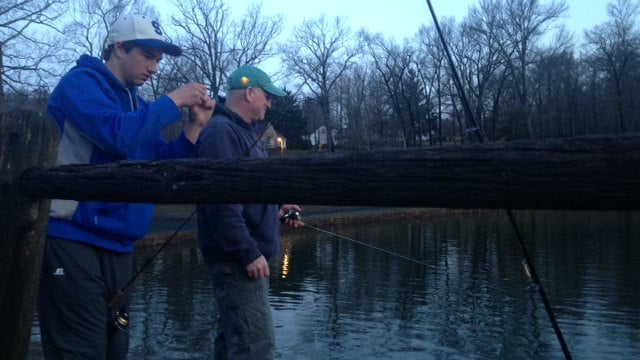 Free fishing is available on Father's Day. (WFSB file photo)
HARTFORD, CT (AP) -
The state of Connecticut is offering a free day of fishing on Father's Day.
The first of two "Free Fishing License" days is planned for Sunday. A second is scheduled for Saturday, Aug. 15.
Anglers can obtain the free licenses through the Department of Energy and Environmental Protection's online sportsmen licensing system at www.ct.gov/deep/sportsmenlicensing or at any venue that sells fishing licenses. Both residents and non-residents age 16 years and older can obtain a free one-day license for both inland and marine areas.
Connecticut lawmakers passed legislation last year that allows DEEP to designate up to two free days a year.
Susan Whalen, DEEP's deputy commissioner, said the agency is hoping to encourage people to give fishing a try and get hooked on the sport.
This story has been corrected to show that the second "Free Fishing License" day is Saturday, Aug. 15, not Aug. 12.
Copyright 2015 The Associated Press. All rights reserved. This material may not be published, broadcast, rewritten or redistributed.