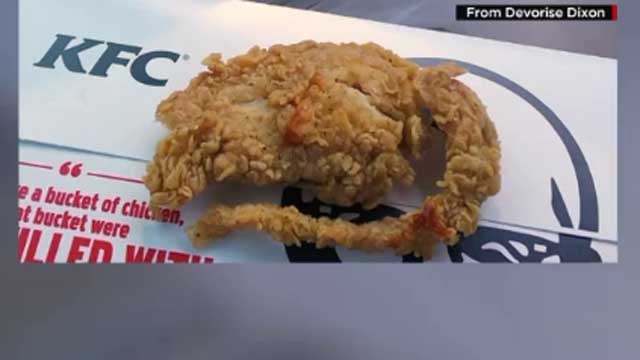 Man claims he found a deep-friend rat in box of chicken tenders (CNN)
(CNN) -
The chicken tender from KFC that was speculated to be a fried rat turned out to actually be chicken.
KFC customer Devorise Dixon said he bought a three-piece box of tenders at a KFC in Los Angeles but was surprised by what came in that box.
"It was very nasty. I spit it out. I looked down at my hand and I realized that it was in the shape of a rat with a tail and everything in it," Dixon said.
He posted photos on his Facebook page and he put the tender in the freezer.
He then went back to the restaurant with photos and his receipt.
However KFC smelled a rat and believed this was just an oddly shaped chicken tender.
The chain fought back with a photo of the reverse side of the tender, which appeared to be 100 percent white meat chicken.
CNN was never able to get in touch with Dixon, but his lawyer said he agreed to send the tender to an independent lab and KFC said it has officially determined that the tender was chicken.
© 2015 Cable News Network. Turner Broadcasting System, Inc. All Rights Reserved.