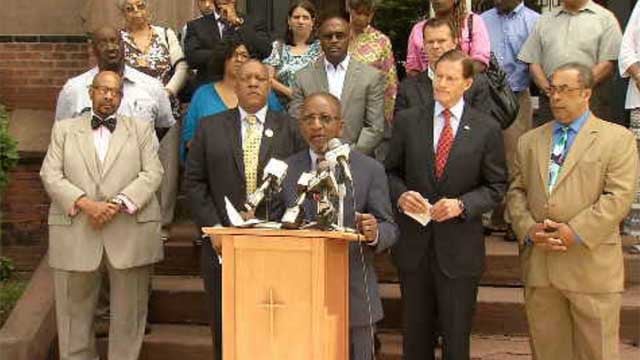 In the wake of a deadly church shooting in Charleston, S.C., one lawmaker said he wants to root our domestic terror groups. (WFSB)
HARTFORD, CT (WFSB) -
In the wake of a deadly church shooting in Charleston, S.C., one lawmaker said he wants to root our domestic terror groups.
U.S. Senator Richard Blumenthal said he is calling on the Senate Judiciary Committee to have a hearing on the threat posed by homegrown hate groups.
The announcement was made on the steps of the Faith Congregational Church in Hartford, which is the oldest black church in the city.
Blumenthal was joined by the leader of Connecticut's NAACP who said the country needs to pay more attention to hate crimes.
"The same type of urgency the United States is using to go against ISIS...we need the same type of urgency to go against white supremacist groups," said Scot Esdaile, president of the NAACP.
Copyright 2015 WFSB (Meredith Corporation). All rights reserved.