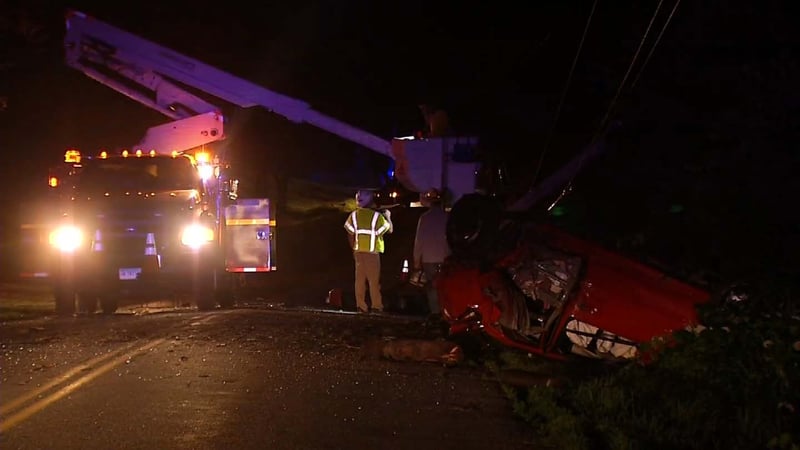 (WFSB photo)
ELLINGTON, CT (WFSB) -
A serious crash shut down part of Shenipsit Street in Ellington early Thursday morning, according to state police.
Troopers responded to the area of 106 Shenipsit Street after reports of a car that rolled over and slammed into utility poles around 1:30 a.m. Electrical wires were knocked down.
They said the driver lost control of the vehicle for some reason and actually collided with two separate utility poles. The vehicle eventually came to a stop on its roof.
Afterward, the driver fled the scene, troopers said. An injured passenger remained.
Eyewitness News learned that the passenger had to be flown by LifeStar helicopter to Hartford Hospital.
Vernon police and state police K9 units were used to locate the driver on Mountain Street in Vernon, which was about a mile away from the crash scene. He was found around 4:30 a.m.
The driver was transported to Rockville Hospital for his collision injuries.
According to Eversource, 44 customers in the area lost power.
State police are still on scene investigating.
Anyone with information about what happened is asked to call state police at 860-896-3200.
(Copyright 2015. Meredith Corporation. All rights reserved)