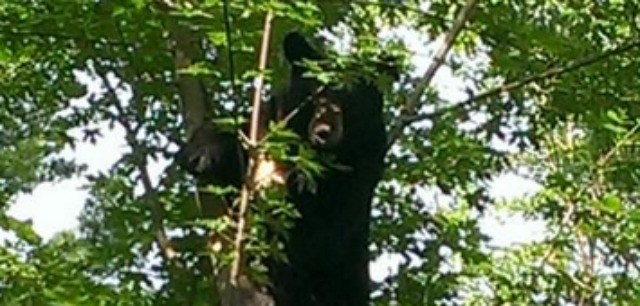 A Black Bear is in a tree on Colebrook Street in Hartford. (@LtFoley)
HARTFORD, CT (WFSB) -
A small black bear was tranquilized after being spotted in a tree in the North end of Hartford on Sunday afternoon.
A 250-pound male Black Bear was found in a tree on Colebrook Street around 10 a.m.
Members of the Connecticut Department of Energy and Environmental Protection were called to assist police.
The bear, which is 3.5 years old, is safe after being tranquilized by the state environmental conservation police chemical immobilization team, who were assisted by Hartford police.
Bear was taken to a "more suitable area," according to DEEP spokesperson.
Residents in one Blue Hill neighborhood were advised about the bear sighting by police.
Bears are looking for food at this time of year, DEEP said.
DEEP officials are asking people to not
leave food outside and have lock the covers of their trash.
People should also avoid having bird feeders.
If Connecticut residents spot the bear, they are advised to call the DEEP Wildlife Division at 860-675-8130 or by
clicking here
.
Copyright 2015 WFSB (Meredith Corporation). All rights reserved.