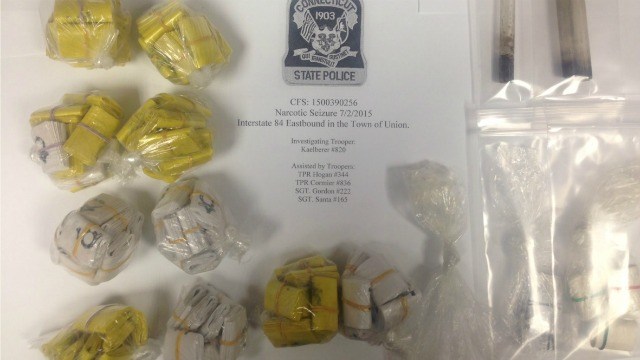 State police released this photo of the drugs seized during a traffic stop in Vernon.
VERNON, CT (WFSB) -
Two men were arrested after more than 1,000 bags of heroin were seized during a motor vehicle stop near Vernon on Thursday evening.
State police were conducting traffic enforcement on Interstate 84 around 7:30 p.m. when troopers spotted a grey 2002 Volkswagen Passat that "was not emissions compliant."
During the stop on the exit 72 off-ramp, Troopers said they saw narcotics paraphernalia on the floor of the Passat.
Police arrested 27-year-old Zachary Monahan, of Dudley, Ma. and 26-year-old Joshua Mimande, of North Grosvenordale.
Besides the 1,055 bags of heroin seized, police also found 10 bags of crack cocaine packaged for distribution, narcotics paraphernalia and about $800.
Monahan and Mimande were both charged with possession of narcotics/heroin, possession of heroin with intent to sell, possession of narcotics/cocaine, possession of cocaine with intent to sell and possession of drug paraphernalia. Both are being held on $250,000 bond until their scheduled arraignment at Rockville Superior Court on Monday.
Copyright 2015 WFSB (Meredith Corporation). All rights reserved.