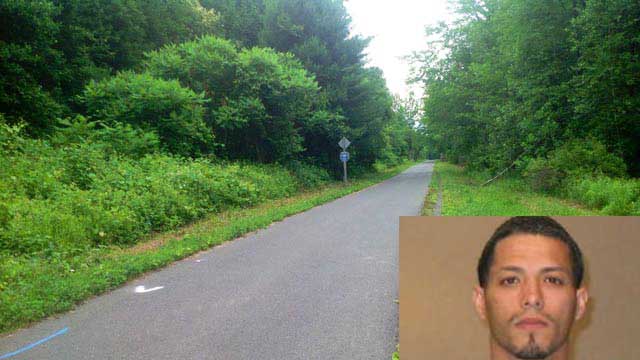 Police arrested Luis Ortiz in connection with a sexual assault on Avon Rails to Trails (WFSB/Avon Police Department)
AVON, CT (WFSB) -
An arrest has been made after a woman reported she was sexually assaulted near the Rails to Trails in Avon.
On Friday, police said they obtained DNA samples and were able to find a match. The suspect was identified as 29-year-old Luis Ortiz who was in custody in Chicopee, Ma.
The sexual assault was reported on June 25 at a little after noon. The female said she was running on the trail just south of Scoville Road when the man reportedly dragged her off the path and sexually assaulted her.
Ortiz was charged with first-degree kidnapping and first-degree sexual assault. He was held on a $2 million bond and is awaiting the extradition process back to Connecticut.
Police increased patrols on the trail after the reported assault.
Neal Ganslaw said he uses the Rails to Trails in Avon at least twice a week, but the incident on June 25 has him thinking twice.
"It would make me think twice about having my kids out here without an adult," Ganslaw said.
Neighbors said they're worried about the attack happening again.
"It doesn't make me feel better about the next guy," Ganslaw said.
Copyright 2015 WFSB (Meredith Corporation). All rights reserved.