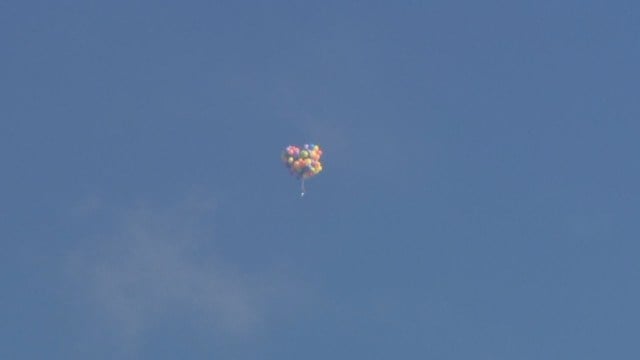 (CBS photo)
CALGARY, CANADA (WFSB) -
A man was charged for flying over a city using 100 helium balloons tied to a chair.
Police in Calgary, Canada posted the details to their Facebook page.
They said it happened around 7:30 p.m. on Sunday.
They said 26-year-old Daniel Boria was spotted floating in the chair along Harlow Avenue N.W.
Police said witnesses observed Boria maneuver the chair south towards downtown.
As he approached downtown, police said he jumped from the chair and opened a parachute.
He landed on a property near Highfield Boulevard S.E. and Ogden Road S.E.
Police said Boria indicated that he was aiming for the city's stampede grounds.
Upon landing, Boria was taken into custody without incident.
Police said they charged him with one count of mischief causing danger to life.
Copyright 2015 WFSB (Meredith Corporation). All rights reserved.