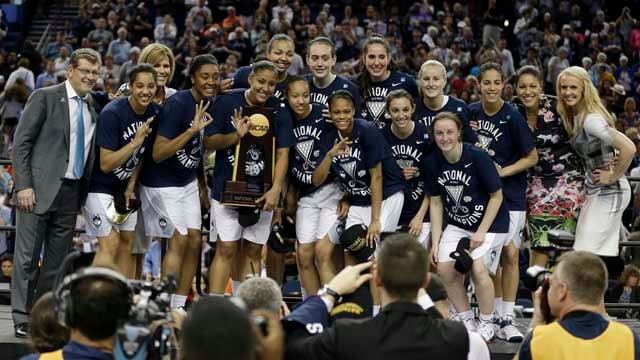 Connecticut players and coaches pose for photos after winning the NCAA women's Final Four tournament college basketball championship game against Notre Dame. (AP photo)
COLUMBIA, SC (AP) -
South Carolina has ended Tennessee's 11-year run atop the attendance standings in women's basketball.
The Gamecocks averaged 12,293 fans this season at home, the most in the country. The Lady Vols were second with 10,375. South Carolina jumped nearly 6,000 fans per game this season.
This was the first time since 1994 that neither Tennessee nor UConn was No. 1 in attendance. The national champion Huskies were sixth this season, averaging 8,216 fans.
Copyright 2015 The Associated Press. All rights reserved. This material may not be published, broadcast, rewritten or redistributed.