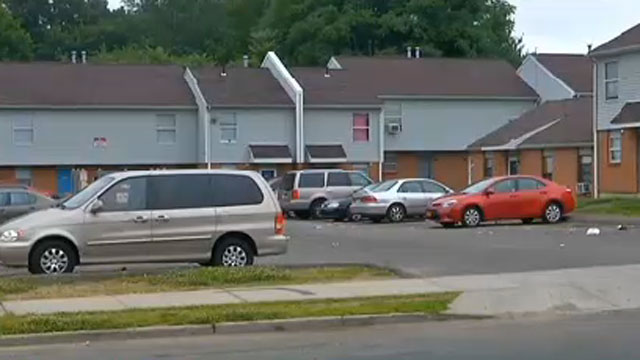 Police will open at Trumbull Gardens apartment complex. (WFSB)
BRIDGEPORT, CT (WFSB) -
Bridgeport officials announce the opening of a police substation at a city-owned apartment complex where there were two recent shootings.
The new substation at Trumbull Gardens apartment complex is "part of an ongoing $1.2 million security upgrade to the city's public housing complexes," according to mayor's office.
City officials said they have already "invested $170,000 in equipment to enhance safety at Trumbull Gardens."
The investments at Trumbull Gardens come after two shootings over the past two months. In June, police were called to the same complex after nine people were shot and 37-year-old Savonnie McNeil was killed. On July 7, 26-year-old Courtney Frasier was shot five to six times at the complex.
"Safety is first and foremost in our minds. We have initiated new foot patrols in all of our public housing complexes. We are working to enhance safety not just through increased police presence but also through an integrated system of security cameras. "We have been working with Park City Communities for several months to construct a comprehensive security plan," said Police Chief Joseph Gaudett Jr.
Copyright 2015 WFSB (Meredith Corporation). All rights reserved.