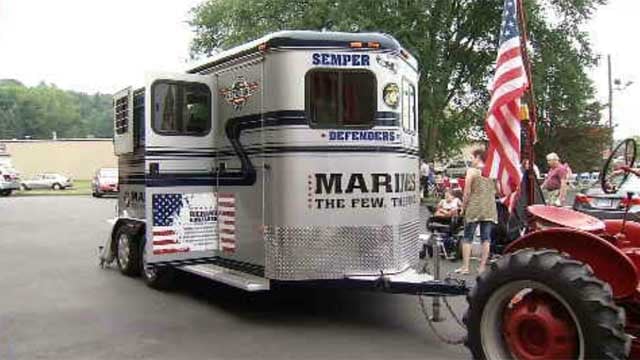 Veteran gets surprised with a new horse trailer (WFSB)
NEWINGTON, CT (WFSB) -
A Marine veteran who honors his fallen brothers and sisters with his two horses has been in dire need of a new horse trailer.
After walking almost 18 miles with two horses to a military funeral, many people came together to present him with a new trailer on Thursday.
It was unexpected but well-deserved for 66-year-old Rick Kowalker. He was given a new trailer, which was a donation with the help of so many in appreciation of his service and dedication to the military.
When he goes to military funerals, Kowalker goes dressed in full Marine uniform with his two horses in tow.
A few weeks ago, his horse trailer snapped off his truck, prompting him to walk almost 18 miles to get to a funeral in Wethersfield.
"I didn't know what my next step was going to be," he said.
In 10 years, Kowalker attended over 700 funerals.
"It would bring me a lot of peace knowing that I have a safe trailer behind me," Kowalker said. "There are too many people to thank."
Copyright 2015 WFSB (Meredith Corporation). All rights reserved.