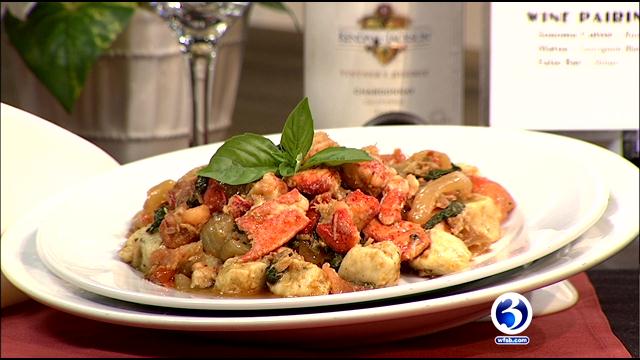 Tuscany Grill makes Angry Lobster Gnocchi. (WFSB)
ROCKY HILL, CT (WFSB) -
Here's the recipe for our Angry Lobster Gnocchi provided by Tuscany Grill:
Ingredients:
5 oz gnocchi

3 oz raw baby spinach

5 oz diced plum tomato

3 oz caramelized onions

1/2 oz chopped garlic

1/2 oz chopped shallots

1/2 oz chopped hot cherry peppers

1 oz shredded fresh basil

5 oz lobster meat
Directions:
Drop gnocchi into boiling water. Gnocchi are finished when they are floating.

In a hot saute pan, add 1 tablespoon of olive oil, the garlic, shallots and cherry peppers and cook until the garlic just starts to brown.

Turn down the heat and add lobster meat, caramelized onions, basil and tomatoes

Drain cooked gnocchi and add to the lobster mixture

Add salt and pepper to taste
Copyright 2014 WFSB (Meredith Corporation). All rights reserved.