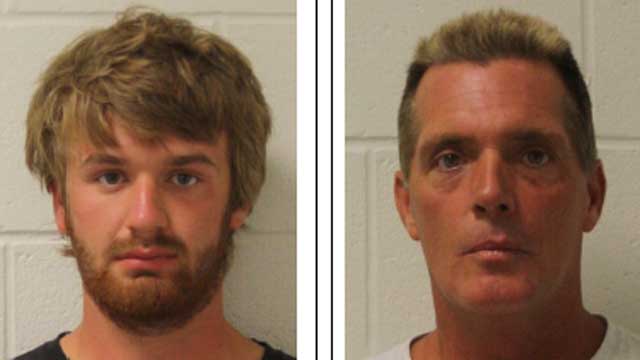 Mark and Brandon Balzano were charged with breach of peace after a fight at Big Y. (Branford Police Department)
BRANFORD, CT (WFSB) -
A father and son from Branford were arrested along with two other teenagers after a fight involving a baseball bat in a grocery store on Monday evening.
Officers were called to a reported fight inside the Big Y in 100 block of West Main Street around 7:15 p.m. Upon arrival, police arrested 49-year-old Mark Balzano and 19-year-old Brandon Balzano along with an unidentified 16-year-old and 17-year-old.
Police said Mark Balzano threatened the group of teens with a bat and even choked the 16-year-old in the back of the shopping plaza.
The fight continued and Mark Balzano chased them inside the Big Y. Police said that the fight continued in the store until police's arrival.
All four suspects were charged with breach of peace. Mark Balzano was also charged with first-degree strangulation and second-degree threatening.
Mark Balzano was released on a $1,000 bond while Brandon Balzano was released on a written promise to appear at court. Mark and Brandon Balzano are expected to be arraigned at New Haven Superior Court on July 21.
The juveniles were released to their parents.
Copyright 2015 WFSB (Meredith Corporation). All rights reserved.