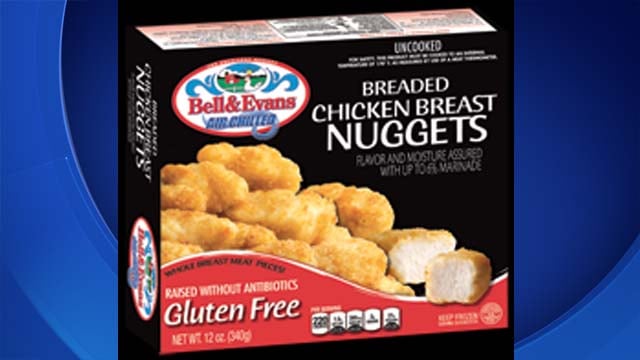 Stop & Shop alerted customers on Thursday to a voluntary recall of a gluten free chicken nugget. (Bell & Evans)
HARTFORD, CT (WFSB) -
Stop & Shop alerted customers on Thursday to a voluntary recall of a gluten free chicken nugget.
Stop & Shop announced that it removed Bell & Evans Gluten Free Breaded Chicken Breast Nuggets due to potential Staphylococcal enterotoxin contamination.
The nuggets included in the recall are Bell & Evans GLUTEN FREE Breaded Chicken Nuggets, 12 oz., UPC 738985277291 with a best by date of 03/25/16.
Stop & Shop said "Staphylococcal entertotoxins are fast acting, sometimes causing illness in as little as 30 minutes. Symptoms usually develop within one to six hours after eating contaminated food."
The most common indications of Staphylococcal food poisoning are nausea, vomiting, stomach cramps and diarrhea. The illness is usually mild and most patients recover after one to three days.
Stop & Shop said it has received no reports of illness.
Consumers looking for additional information on the recall may call Murry's Customer Service at 1-800-638-0215. In addition, customers may call Stop & Shop Customer Service at 1-800-767-7772 for more information. Customers can also visit the Stop & Shop website at www.stopandshop.com.
Copyright 2015 WFSB (Meredith Corporation). All rights reserved.