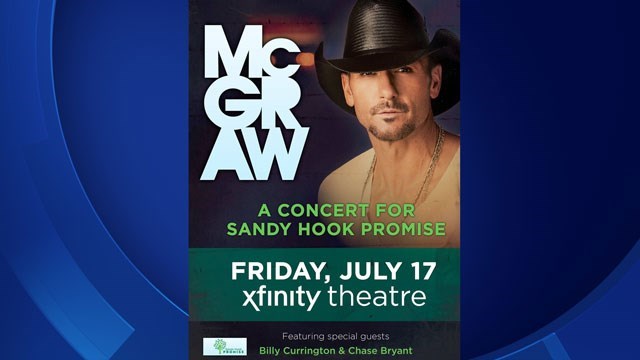 HARTFORD, CT (WFSB) -
Tim McGraw will be in Hartford on Friday night for a concert at the Xfinity Theatre to benefit Sandy Hook Promise.
Sandy Hook Promise calls itself a national nonprofit organization based in Newtown that supports sensible solutions to protect children and prevent gun violence.
Twenty-six students and staff were gunned down at the Sandy Hook Elementary School in December 2012.
"Out of this tragedy a group was formed that made a promise to honor the lives lost and turn it into a moment of transformation," McGraw previously said. "Sandy Hook Promise teaches that we can do something to protect our children from gun violence. I want to be a part of that promise, as a father and as a friend."
McGraw agreed to host the concert despite criticism from gun rights supporters.
One hundred percent of the proceeds will go to the non-profit group.
Other performers include Billy Currington, Chase Bryant and a few special guests to be announced later.
The concert starts at 8 p.m. For ticket information, click here.
For more on the Sandy Hook Promise, check out its website here.
Copyright 2015 WFSB (Meredith Corporation). All rights reserved.